Cave and Basin
15 minutes later we came back out into the open at the Cave & Basin, a hot sulphur spring, discovered by railway workers.The spring had been captured and routed into a swimming pool long since closed to bathing but you could walk around the outside free or pay an extortionate fee to geta slightly closer look and go up a tunnel to see where the descended into the original spring.
Naturally we declined to pay but took the free walks up the hill which also led to further springs and admired the now partially filled in pool from on high. The sulpher smell was very pungent and up the hill it didn't even keep the mosquitoes away, the warm water seemd to attract them and you daren't stand still for long as you became a target.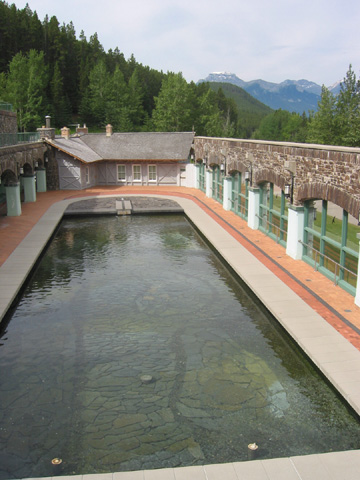 Filled in swimming pool
The water in the springs was bubbling up causing minature underwater staligmites to form.
Jude and David braved the boardwalk down to the lake whilst I wandered around taking photos avoiding areas with mosquitoes.
We walked quickly back to town Chris and I well ahead of Jude and David, stopping only in the trading post for Chris to pick up an indian knife and me to buy Jude's Christmas present, a silver and turquise necklace.
We found a Subway sandwich shop in an underground shopping arcade for lunch. By the escalator there was a selection of old skis depicting the progress of design over the years.
We wandered down the main street stopping to pick up a take away vanilla flavoured coffee and large cookies. Jude left me to get the coffee to which I forgot to add sugar, consequently Jude went thirsty.