Whistler
Breakfast with another couple, then we discovered the cat so after much stroking and declaring that this made it the best B&B so far we headed off.
First stop was Whistler which people had said was wonderful. It was indeed very pretty but obiously only a tourist town catering for skiers in winter and day trippers in summer. Most of the main area was pedestrianised which made getting around pleasant and there was a delightful stream running through the centre with many bronze object attached to pillars on the bridges.
Us boys found a toy shop so Jude went elsewhere whilst we invstigated it. They did have Settlers and Ticket to Ride so it had some merit but it also had 27 different variants of Monopoly.
Many of the shops were for the well off including an art studio, nice works but outside our price range. There was nothing to actually see in the town so after strolling around for an hour we moved on.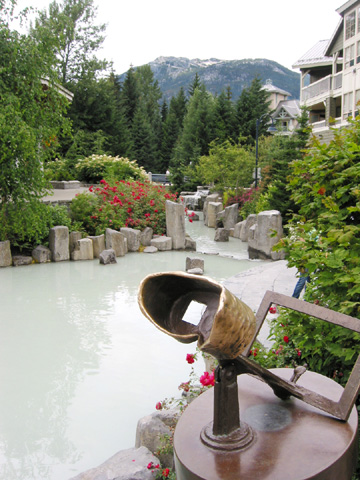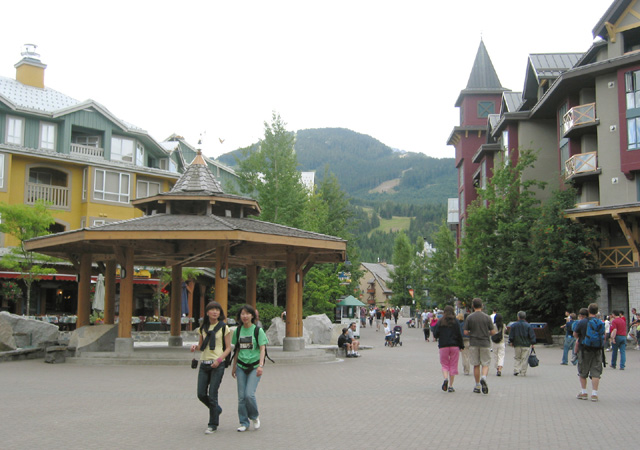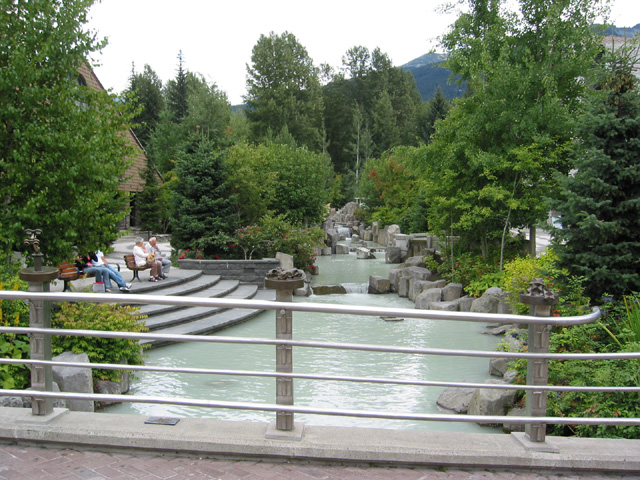 Howe Sound
The drive from Pemberton south was nothing spectacular until we reached Howe Sound. This was our first glimpse of the sea,. Howe Sound opened up a wonderful vista on our right with islands dotted all around. The road at this point was undergoing a major upgrade in time for the winter olympics at Whistler; the whole stretch was being made into dual carriageway. This combined with the fact that it was cut into a cliff meant there were very few places where it was possible to stop and record the view. Where there were stopping places there always seemed to be trees in the way.
The best views were from the car going over ravine bridges with definitely no stopping.
We managed to find a cafe just off the road (having first ended up in a housing lot) where we had a strong coffee and sat in the sun. Even here though there were still trees blocking the view.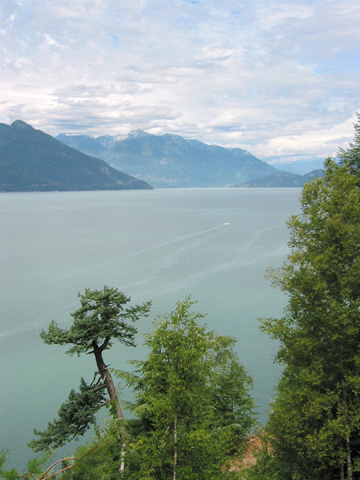 Looking up river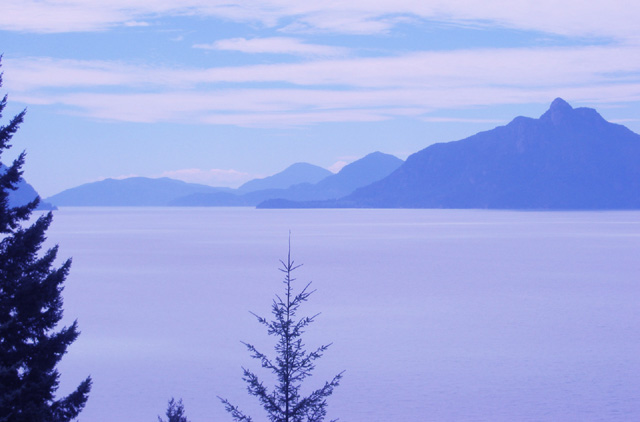 Out to sea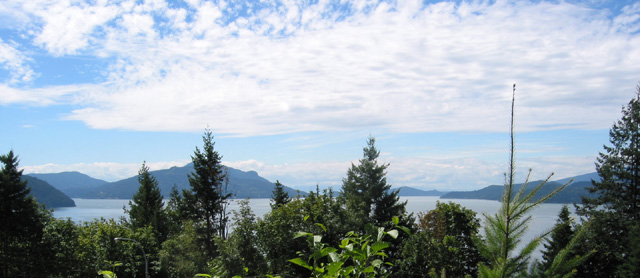 From cafe car park
Where we joined the main Vancouver highway there had obviously been a holdup on the other half of the dual cariageway as the cars were all stationary. We'd find out why later.
Catherine was there to welcome us in and we collapsed. Jude & I had Karim's room along with posters of some dead black rapper T-Cut or Z2 or something, the boys had Riyan's room.
Capilano Dam
Catherine let us unpack and have a coffee before taking us on a walk through Capilano forest to the dam and salmon hatchery. This was only a few minutes up the road and the first time we'd been in a forest with no mosquitoes since leaving England. We wound our way across the upper gorge until we reached the dam. This resevoir feeds all of Vancouver with fresh water so apparently nobody is allowed to pee north of this point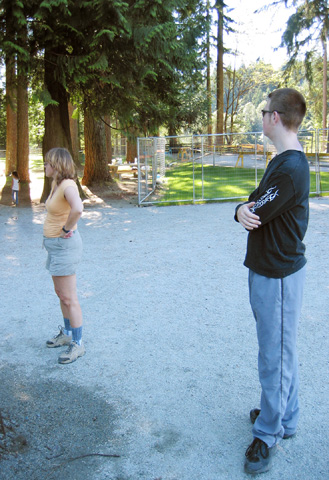 Catherine & Chris
Once over the dam we headed down to river level where there was a salmon hatchery and a permanent educative exhibition. Catherine explained to us which types of salmon you should BBQ, which you should put in sandwiches and which is the trash that gets sold to Tescos. The choices are Pink, Red, Sockeye, Chinook; I wonder what I do with which ? It doesn't help that several types have more than one name.
The only thing I remember is buy Oceans or Canfisco, then Marks and Spencer's. Do not buy Tescos salmon.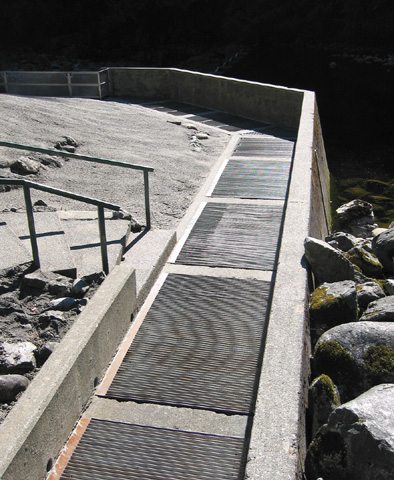 Salmon run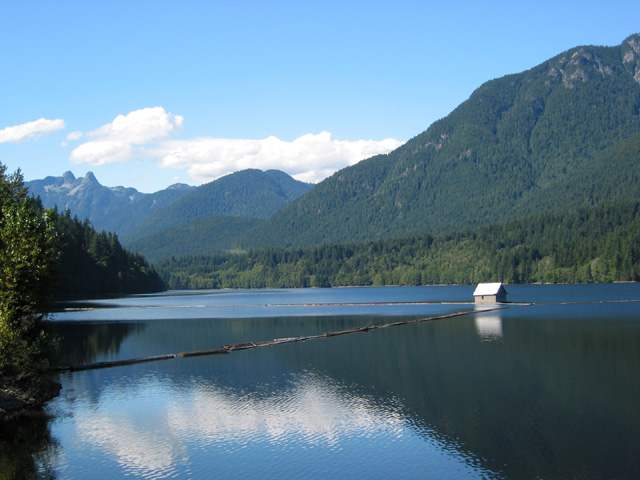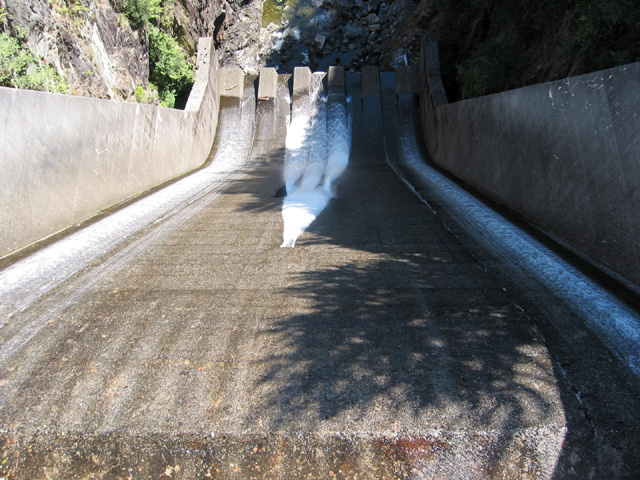 The dam spillway Harrison Ford leapt down it in The Fugitive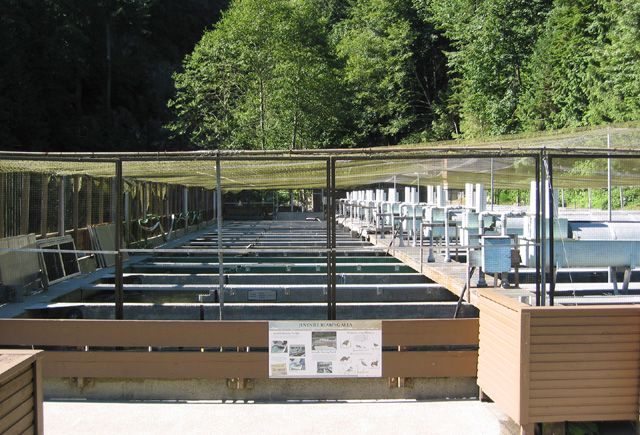 Salmon hatchery