Capilano Bridge
The lasagne had nearly all disappeared during the night.
Off to Victoria Island today but first we managed to squeeze a trip in to Capilano bridge. Catherine had got us free passes they'd collected over time. Living so close (200 yards) they get issued one a year for the inconvenience the extra traffic causes.
By the time we set off Catherine had left for some far flung land (Prince Rupert probably) and Areef was out running.
Near the entrance there was a small crafts area then it was over the bridge. Jude and the boys had gone on and I decided to change the video tape halfway across the bridge, walking back to a steadier area I must have knocked the mechanism as once oupen the tape compartment would not shut again. I sat down for 15 minutes trying to fix it before anybody came back to find me. I decided that it was not possible to do any more there so I put it back in its case with a large bulge where the compartment was still open. This was rather vulnerable but there was no other choice. As it turned out later the main power board had blown and it was beyond economical repair.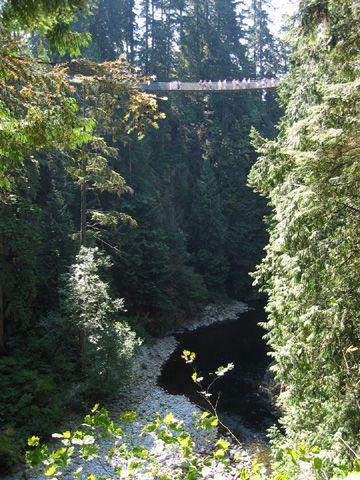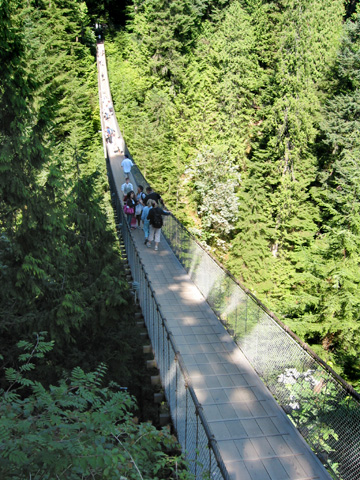 The bridge wobbles and waves quite dramatically and there were frequent warnings over the speakers not to run.
Once on the other side there was an informative area (which of course the others had already done) so I skipped that and we headed off into the trails beyond. Deciding not to wait for a tour guide we wandered around with Christopher getting bored stiff (and doesn't he make it clear) before catching up with a guide and tagging on to the back.
We completed the guided tour then headed for the tree top trail. This lead around a half a dozen trees at about 20 feet off the ground, to be honest the tree top trail in Verwood is more exciting.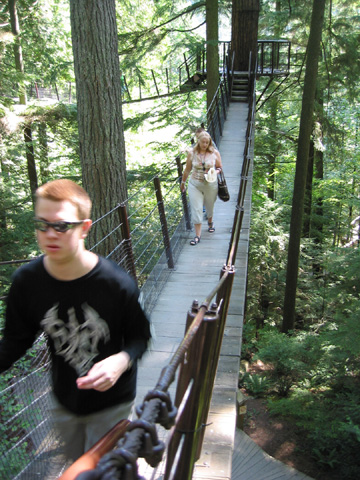 We wandered around some further trails then headed back across the bridge to the gift shop and ice cream parlour. I bought an indian belt whilst Jude bought fudge.
Back home Areef had arrived so we finished our packing and said our goodbyes (for now) as we headed off to the car ferry.