Victoria Museum
Up late again, Andrew off already. Back to Victoria again today to hit the museum this time.
First in line was a special but ultimately dreary Tibet exhibition with clothes and craftwork before heading to the main entrance. This had a full sized mammoth in a natural setting, on the left was a very realistic ice sheet, so realistic I had to touch it only to discover it was real ice. Suddenly the lights dimmed, lightning crashed out, the mammoth was lit in a series of flashes and the little children all started bawling their eyes out. Some were still crying two rooms later.
On through a series of stuffed animal friezes to an interesting energy efficiency area which was very educational.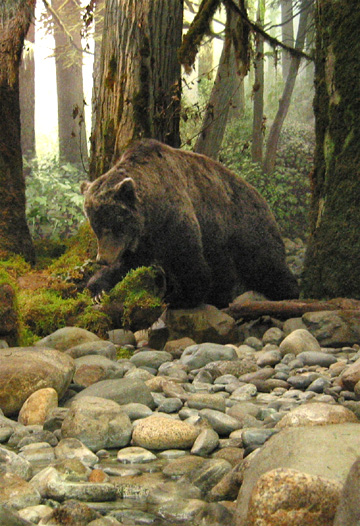 The other floors consisted of the history of Canada and its development with logging, sailing, mining, 1800 town life and many other aspects. I found it quite interesting but the kids were bored and went off to Jude to the cafe.
Back at the main level there was another special exhibition this time of Indian life showing their history, customs and way of life including a series of masks for all their spirits, totems, canoe construction and a partially buried house. It ended with the recent declaration signed by the Canadian government granting administrative rights over a set of lands back to the Indians.
By the time I completed this the others had finished their meal at the cafe but upon quizzing them it seemed they had missed several areas so I went round several of the areas again.