Royal Tyrrell museum
The museum was about 5 miles North of the town, it was raining when we arrived which meant that none of the outdoor activities were on that day.
This is a working museum so in addition to all the skeletons you could possibly want to see there was a section behind glass where you could watch the staff prepare new arrivals for examination, unwrapping the coverings and extracting the rocks.
The whole place was very well done, justly deserving its fame, the main museum was set out by period, Triassis, Jurassic... with an additional section devoted to underwater development. Several of these areas had animated displays and television talks each suitably short for children and with comfy seating around many of them.
Off the lobby there was a lecture theatre where larger shows were held at set times taking you behind the scenes explaining the complete process from discovery to display. These were hugely entertaining with integrated cgi. The narator also appeared in many of the tv displays around the museum providing continuity and humor.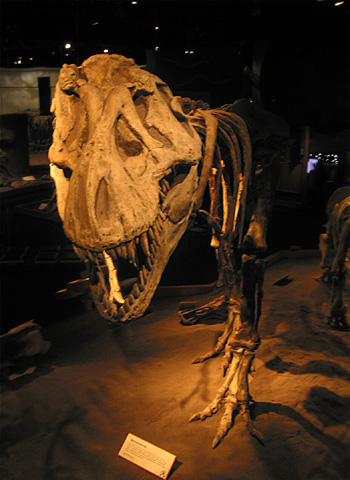 Jude and the kids soon got ahead of me as I stopped to take the occasional photo, an situation oft repeated throughout the holiday.
By the time we left it was lunch and everybody was hungry, I made them all wait though as I insisted on climbing to one of the lookouts since the rain had temporarily stopped.