Victoria
Andrew was of and out of the house before we surfaced today. We foraged for breakfast whilst listening to some religious nut show on the tv.
Finding our way into Victoria was simple and we managed to park for only $5 a day, though having paid we then walked past a car park at $2.50 a day. We had a map and wound our way through the backsrteets to the harbour which was a picture postcard.
A flea market was set up around the harbour so we dawdled our way along it perusing at various stalls. Jude bought a sort of earing which hooked over the ear, then decided it was so pretty and unusual bought another for Lindy. A little further round there was a Chinese lady creating picture scrolls so Jude splashed out the Farrell house budget and bought one for her school notice board.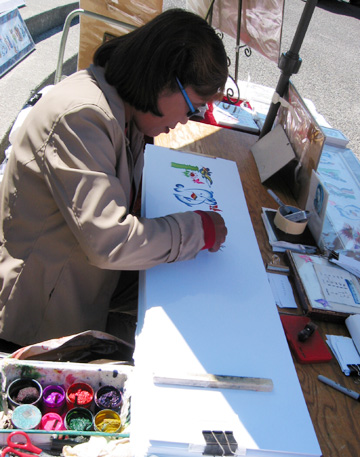 Farrell sign in progress
At the far end of the harbour was the tourist information office where we grabbed lots of information before wandering up the main street looking for a sandwich shop. We wandered back to a famous tea house and sat in the shade of the trees to eat. Whilst they ate I headed up the main street looking for a camera shop to repair the video. I located a good shop but they didn't do video repairs on site, however they pointed me in the direction of somewhere in the suberbs, too far to walk so we'd have to call in another day.
After lunch we visited the IMAX next to the museum where there was a show on about the death of coral reefs.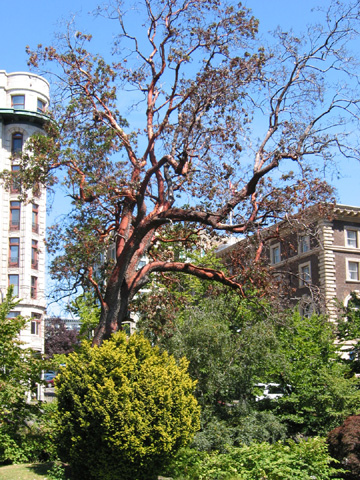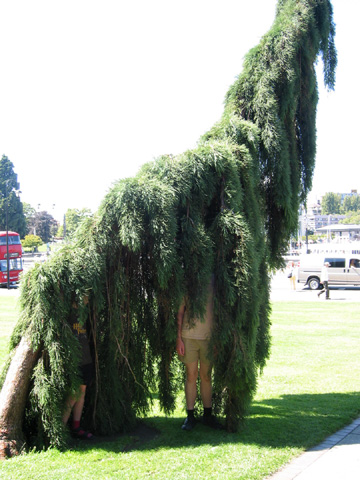 David & Chris avoiding sunstroke