Horseback riding
We'd chosen a 2 hour ride and ended up with another English family of three and a single guide though normally it would be a maximum of six riders to a guide. Having never ridden before I was approaching it with some trepidation but because of my height ended up with one of the larger horses. We had the option of helmets and although Jude really wanted the kids to wear them I wanted to be a cowboy and wear my cowboy hat, after that of course there was no way the kids would wear one (another black mark for me).
The horses all had their own personalities, Jude's liked being at the back since it could go at a snails pace and the rest of us had to keep stopping and waiting for it. David's wanted to go fast so would hang back to create a space then trot to catch up again, Chris's loved to eat but wasn't allowed to, his had special attachments to stop it dropping its head too far but had learnt the knack of undoing them whilst on the move.
We rode through the forest past a beaver lake and house up and down some hills (remembering to lean forward going up and back going down), more forest then a final climb up the side of a hill on a narrow path where I never really trusted the horse not to fall down the hill and kill me. We didn't really stop the whole time, except when Jude dropped something, or Chris's horse had undone its anti-eating fixtures again. This made taking photos difficult as the horse insisted on bouncing up and down whilst walking. Typically both my camera battery and the memory card ran out so had to be changed whilst riding. We saw some elk through the trees but the bouncing ruined all the pictures.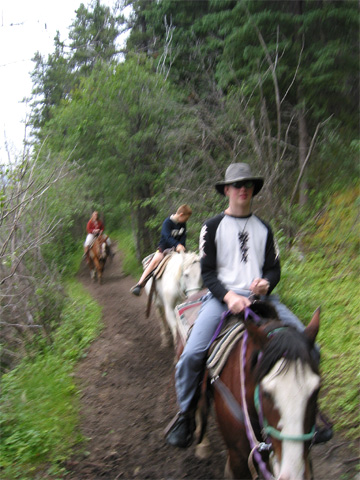 Jude on the slow horse
The guide was a trainee rodeo rider trying to go professional. During rodeo season he'd travel the country sometimes doing two rodeos a day. There didn't appear to be much money in it though.
I was suprised how unstiff I was when we made it back though others seemed to have suffered more than I.
We called back into Jasper and wandered around the town proper. There was a superb Indian craft shop with wind chimes, white pottery, bows and arrows. I was sorely tempted to buy a bow and arrow but didn't really know what I'd do with it as they were probably only fit for hanging on a wall (but they sure would have looked good).
I managed to locate a stationers for some bubble wrap for our sand jar and discovered they had cheap internet access so I checked up our Nationwide account and banged off an email to Mike and Ali as I could remember their email address.