Mount Whistler
Having failed to go up the cable car in Banff because it was too expensive we thought we'd go up Mount Whistler instead. This of course turned out to be dearer.
All the tickets had an embarkation time even though the total trip was only about 10 minutes. I suppose this stopped people queuing and allowed them time to wander around the gift shop.
The temperature was several degrees colder at the top and I was glad of something warm. There was still a long climb from the top cable car station to the top of the mountain. After a few minutes Jude and the boys set off upwards whilst I dawdled taking photos.
Along the route various people had built the Indian statues of men, there are a whole series of different variants each with their own meaning but the simple man was the most popular and possibly the easiest to build.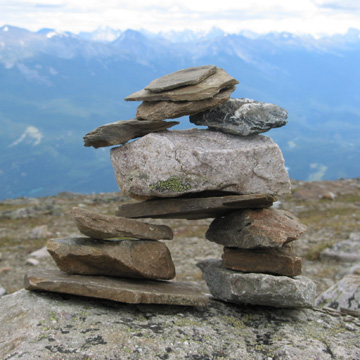 At the very top was a large cairn with views over to the back mountains, these were a very red colour, probably from iron oxide in the ore.
The view over Jasper was wonderful, we could see our lodging (or at least the road our lodgings were on) in the estate at the bottom left and further back Pyramid lake and the forests we rode through yesterday.
Jude and the boys set off back down almost as soon as I reached the top. I set off 10 minutes later taking a long and steeper cut but coming out below them on the path.